Newsletter Q1 2019

Paint Measurement: Importance of Ratio Control for Automotive Coatings
Besides body sheet metal, automotive plastics represent the largest sector of painted components on today's sedans, SUV's, and trucks. Yet these dissimilar substrates require vastly different paint measurement and application processes.
Automotive Sheet Metal: Coatings and Paint Measurement
Automotive sheet metal coating systems typically include multiple, one-component coatings that impart the superior corrosion protection expected from modern vehicles. Car bodies are "dipped" in an e-coat tank containing an electrostatically charged liquid that, when dried, serves as the first layer of corrosion protection.
Bodies are then conveyed to the paint booths where primer, base coat, and the clear topcoat are applied. Some automotive companies utilize powder primer applications in place of a liquid primer application. Each method serves a vital role in preparing the surface for the base coat. When dry, it also serves as a barrier to harmful UV exposure that degrades adhesion to the e-coat. Today, most base coats are direct-charge water-borne, followed by two layers of clear coat.
Afterwards, the paint is cross-linked (cured) in a high-temperature oven that would melt and/or deform most automotive plastics.
Coating and Paint Measurement for Plastic Components
Plastic components are painted differently. Paint companies exploit a chemical reaction to promote molecular cross-linking so that coated parts can bake at roughly half the temperatures used for sheet metal…
Read More
---


Brand New Series of Coriolis Mass Meters in the TRICOR Product Line — Available Soon!
High-Performance Flow Measurement Solution for Sensitive Environments
AW-Lake Company announces the upcoming PRO Plus Series of TRICOR Coriolis Mass Flow Meters that incorporates a DSP transmitter to provide a smart flow measurement solution. This compact configuration is ideal for simple installation in a variety of applications with limited space. In addition to a small footprint, the PRO Plus Series incorporates a self-draining, hygienic design to provide high performance under harsh and sanitary process conditions. Among its many attributes, the meter features fast dosage and short response time along with high zero stability drift-free operation for excellent accuracy combined with long-term stability. Available in three flow meter sizes including ½", 1" and 2", the PRO Plus Series of Mass Flow Meters will offer a choice of a basic Modbus transmitter or one with a modular universal I/O configuration with up to 4 fully configurable channels in remote or local mount versions.
More information will be posted on the TRICOR  website in upcoming weeks.
---


AW-Lake Offers Stainless Steel Version of RT-30EX Flow Transmitters for Greater Corrosion Resistance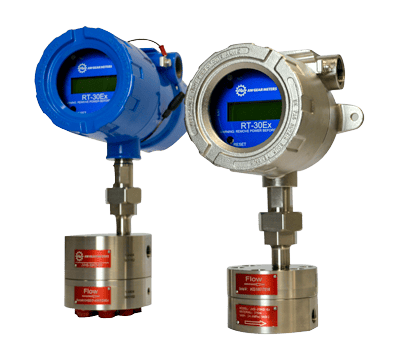 AW-Lake Company offers the RT-30EX Flow Rate Transmitter for industrial flow measurement applications requiring an explosion-proof local rate and total display. Mounted directly to a flow meter or in a remote location when equipment is exposed to the elements, the RT-30EX offers a six-digit LCD display that continuously shows either the flow rate or total. The RT-30EX also offers 4-20mA, frequency outputs as well as optional HART® communication protocol for remote flow monitoring and programming.
CSA-certified for use in the US and Canada, the RT-30EX Flow Rate Transmitter can also be ordered with IECEx or ATEX hazardous area certifications. The RT-30EX has a weatherproof NEMA 4X/IP-66 certified enclosure that provides environmental protection from moisture and debris, making it ideal for use in oil and gas, petrochemical and automotive painting applications.
Now AW-Lake offers a stainless-steel option for its RT-30EX Flow Rate Transmitters. Offered as an alternative to standard painted aluminum, the stainless-steel housing offers greater scratch resistance that can result in future metal corrosion.
For More Information
---
Vögtlin Thermal Mass Flow Meters for Bioreactors


Photanol benefits from accurate and repeatable gas dosing
In bioreactors it is important to dose the gases accurately and reliably. Photanol is developing a biochemical process in which bacteria convert CO2 into useful products. Challenges include controlling the dissolved oxygen, contaminations and the pH value. For this specific application it is required to regulate the acidity to 0.1 pH accurately. The pH value in a bio reactor is regulated by adding more or less CO2. Photanol regulates the mix of CO2 and air with Vögtlin gas mass flow regulators.
Bacteria grown in bioreactors at Photanol 
Photanol uses one of the oldest organisms on the planet to produce sustainable building blocks for the chemical industry. Photosynthetic cyanobacteria were at the origin of all life on earth. And they are not demanding – sunlight and CO2 are enough to keep them happy. Genetically modified bacteria are used to ensure that they excrete specific substances. In the lab, seventeen different products can already be produced with these cells…
Read The Full Story
---
Custom Pelton Wheel Flow Meter Designs
Litre Meter has manufactured Pelton Wheel flow meters since 1975. They are based on a lightweight, low inertia, plastic rotor spinning on jeweled bearings and monitored by a no-drag pick off.
The standard range covers many flow rates, materials, end connections and pressure ratings. The wide rangeability and compactness lends their design to a multitude of applications. Every now and then, customers request some interesting variations, for a variety of reasons.
Company A. Our oldest current client first bought meters from Litre Meter in 1980. Their remit was an all stainless design with welded connections. Something compact was a benefit so Litre Meter varied the design of the then LM220-20bar. 1/4″NPT end connections were added, and hundreds have been sold over the years…
Read The Full Story
---


Application Spotlight: Oil Quantity Measurement in Fixtures
When machining workpieces in fully automated CNC milling centers, the correct positioning of these is an essential aspect in order to guarantee accuracy and prevent machine damage. For this reason, the position of the workpiece clamps must be reliably and automatically determined at all times. This can be guaranteed by the precise and reproducible oil quantity measurement in multi hydraulic fixtures. The usual position monitoring by means of measuring probes or compressed air significantly increases the cycle time or occupies otherwise required control lines. A more reliable, simpler and more cost-effective solution is to measure the volume of the hydraulic fluid in almost real time…
Read The Full Story
---


New Controller Joins AW-Lake's Management Team
AW-Lake Company continues to reshape its management team in response to growing business. Tammie Steiner has been promoted to Controller for AW-Lake Company, reporting to Mark Iverson, General Manager.
As AW-Lake's Controller, Tammie will not only work in concert with Iverson when forecasting, strategizing, and budgeting AW-Lake's financial programs, but she will also support EXACT Dispensing Systems with their financial planning and goals. Steiner will be responsible for both Accounting Departments, including payroll, accounts payable, tax, audit, budget, general ledger, consolidated financial reporting, cash management and staffing functions.
Read The Press Release
---


SignalFire Announces New Product that Optimizes Signal Strength and Area Coverage
SignalFire has done it again… they've released another new product to enhance their popular wireless telemetry system: The Remote Antenna. The new high gain omni-directional antenna provides flexibility in optimizing the position of the antenna with several SignalFire products for maximum signal strength and area coverage. Learn more about this new product on the SignalFire website or contact your sales rep today!
More Information
---


Hazardous Area Rated Flow Sensor Upgraded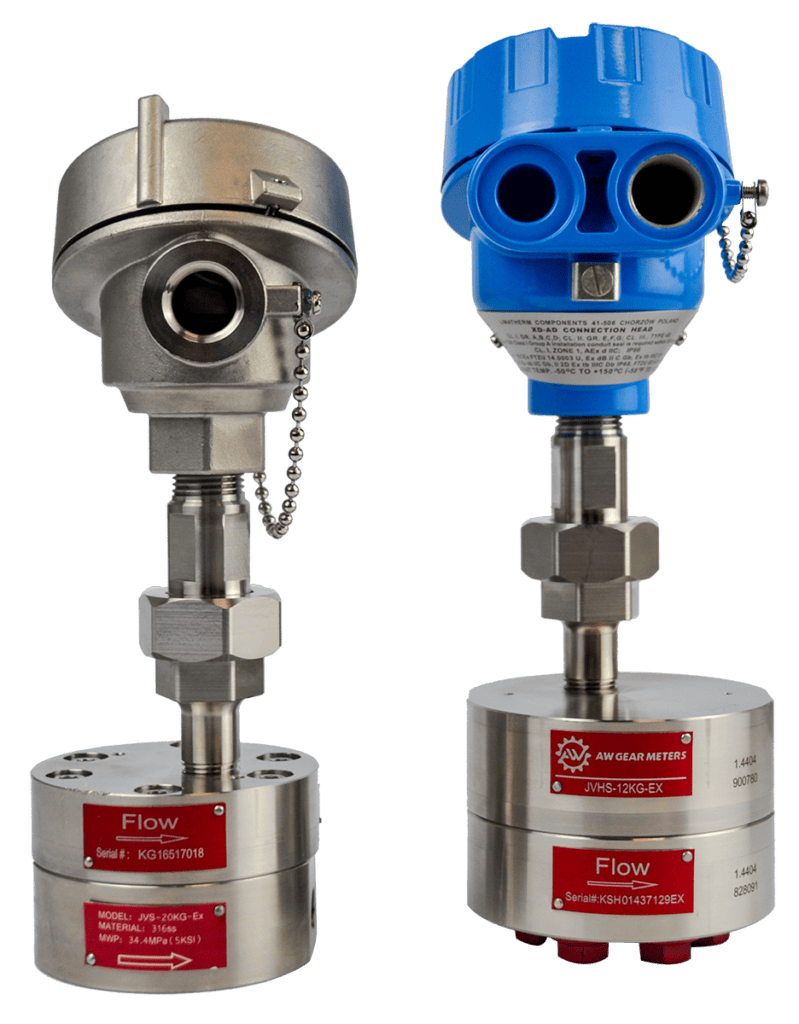 The HUB-40EX Hazardous Area Rated Flow Sensor is now available with a choice of either sinking or sourcing digital output and a choice of junction box material.
Compatible with any stainless-steel AW-Lake flow meter, the explosion-proof frequency output sensor is ideal for use in any industry or flow measurement application requiring an explosion-proof sensor such as chemical injection, hydraulic fracturing or industrial paint. Added for equipment with active inputs, the sinking digital I/O provides a ground connection to the load while the sourcing digital I/O version provides an active voltage source for PLCs designed for source output.
The NEMA 4x junction box of the HUB-40EX Hazardous Area Rated Flow Sensor is available in either standard painted aluminum or 316 stainless steel for added protection against corrosion. For a more compact configuration, the sensor is available without a junction box and wire with flying leads that allows a user to wire their conduit directly to the sensor.
For More Information
---
Previous NEWSLETTERS